Boat and Yacht Registration Delaware
We register Boats and yachts under the Delaware (USA) flag
IMPORTANT ANNOUNCEMENT 27 FEBRUARY 2023
This week the Delaware DNREC and the US Coast Guard announced that they would no longer accept registrations for boats that are not actually based in state of Delaware waters. It is for this reason, we are letting you know that we still have plenty of other options to register your vessel and some are even easier and less expensive than the Delaware registration.
We would like to recommend Poland, Langkawi, San Marino and the United Kingdom as an alternative for the Delaware registration. We can register your vessel in any of these jurisdictions and if you need to register a commercial vessel we can also register in Panama, Malta, BVI and the Cayman Islands.
The first thing to understand is that under which flag you sail has nothing to do with your nationality! All the registrations we offer are available to any nationality. In some cases we need to put the ownership of your vessel in a new dormant company (that you own) in order to comply with the rules but this is only an advantage, as these companies also offer you protection from liability and have several other advantages.
OUR TOP CHOICE WOULD BE THE POLISH FLAG
The Polish flag is probably our best value flag as the registration process is simple, with no surveys to be done and the best part is; you get the registration for life, so no more renewals! No proof of payment is required and you never have to sail in Polish waters! Since Poland is a full European Union member, this flag document is accepted anywhere in the world and comes in 2 languages. We take care of the whole process for you and translate all your current boat papers into Polish as part of our fee. WE CAN REGISTER A BOAT IN POLAND IN 24 HOURS. You will receive the valid to use provisional registration in 1 day and then the permanent a couple of weeks later. See details https://www.polish-yacht-registration.com/
UNITED KINGDOM FLAG
The United Kingdom (UK) registration entitles you to fly the red ensign flag which is held in high regard within the maritime community. The paperwork is not that much and the flag is valid for 5 years and offers a very easy renewal process. The registration is similar in the UK for both private use as well as for commercial use and the fees are the same. See https://www.uk-yacht-registration.com/
LANGKAWI FLAG
Langkawi (Malaysia) offers one of the easiest and most convenient boat registrations in the world. You can register your boat in Langkawi as a private owner or an entity (company) and use it for private, commercial or bareboat activities. The setup process is does not take to long and the paperwork needed from you is very straight forward and most important; in most cases, we do not need a survey report from you which will save you a lot of time and expenses. https://www.langkawi-yacht-registration.com/
SAN MARINO FLAG
San Marino is a new jurisdiction that is also gaining popularity as it has simple registration and the cost are not to high. All boats under 24 meters do not need a survey and the provisional registration can be done in 48 hours. See details https://www.san-marino-yacht-registration.com/
NOTICE FOR DEALERS
DEALERS: WE ARE always looking for new dealers to work with and pay the highest commissions in the industry, while our rates are lower than any other company offering Polish, UK, Langkawi and San Marino yacht registrations. If you are interested in becoming a dealer for us, contact us and we can offer you special dealer rates.
Flag Country Comparison Table
| | Poland | United Kingdom | Langkawi | San Marino |
| --- | --- | --- | --- | --- |
| How fast can it be done? | 24 Hours | 3 Days | 5 Days | 2 Days |
| Available for all nationalities | yes | yes | yes | yes |
| Validation Period | For life | 5 years | For life | 5 years |
| Flag certificate | yes | yes | yes | yes |
| Ownership registration | yes | yes | yes | yes |
| Survey mandatory | no | yes | no | no |
| Valid worldwide | yes | yes | yes | yes |
| Suitable for commercial yachts | no / yes | yes | yes | yes |
| Price from | 420 EUR | 799 EUR | 950 USD | 525 EUR |
| | See Details | See Details | See Details | See Details |
Delaware Yacht Registration – available for ALL nationalities!

Many Europeans and South Americans have found out that by registering your vessel in Delaware they can avoid the red tape of their own home countries.

Yes, you can register a boat in Delaware (USA) and your boat papers will be valid in any country in the world. This means for instance, that a European, who registers his vessel in Delaware can visit any European port with these documents. We also have many South Americans that prefer to sail under US flag in international waters.

The best part of being registered in Delaware is the minimal paperwork involved and the speed to get it setup. Just send us a notarized bill of sale (see details below) and fill in our online form and you are set.

What are the cost for the Delaware flag registration? There is first our service fee of $179,- (max 15 days) or $249,- for the 3 day express service. We include the cost of translations & courier fees in our service fee, so there are no hidden cost!. The second part is the actual government fee (see above) and it depends on the size of your vessel and if you want to register for 1 or 3 years.

How fast can you do the registration in Delaware?
Our standard registration time is just under 2 weeks. You need to add 2/3 days extra if we need to setup a Delaware LLC for you.

Which nationalities can register their boat under the Delaware (USA) flag?
All nationalities can register their yacht in Delaware. There are also no nationality restrictions for setting up a LLC company in Delaware.

How long is Delaware flag registration valid for?
You have the choice to register for 1 year or for 3 years. The registration is by calendar year, so from January 1 till December 31. We can already register you from October for the new year.

Should I setup a company to own my vessel?
You can either register as a private person of any nationality or as a Delaware LLC. The choice is really yours and should be based on the need of; confidentiality, liability and what you plan to use the boat for.

What about the European VAT Tax?
If you have proof that VAT has been paid on your vessel in any European country, you do not have to leave the European waters at all, while registered with Delaware papers.

Should I register as private owner or corporate owner?
You can register your boat in two ways; with the owner being a private individual from any country or you can choose to register your boat under a holding company. If you choose to register under a holding company, we will setup a Delaware LLC company for you. We can setup the LLC for you in 48 hours for a fee of 299 USD and you will only need to pay the low annual maintenance fees of $400 USD after the first year. If you use the LLC only as a ownership company of your boat, there will not be any taxes to be paid as it is only used for owning your vessel.

What does the Delaware flag registration look like?
The Delaware registration comes in a package which consists of a credit card format registration card and 2 stickers (decals) for on your boat.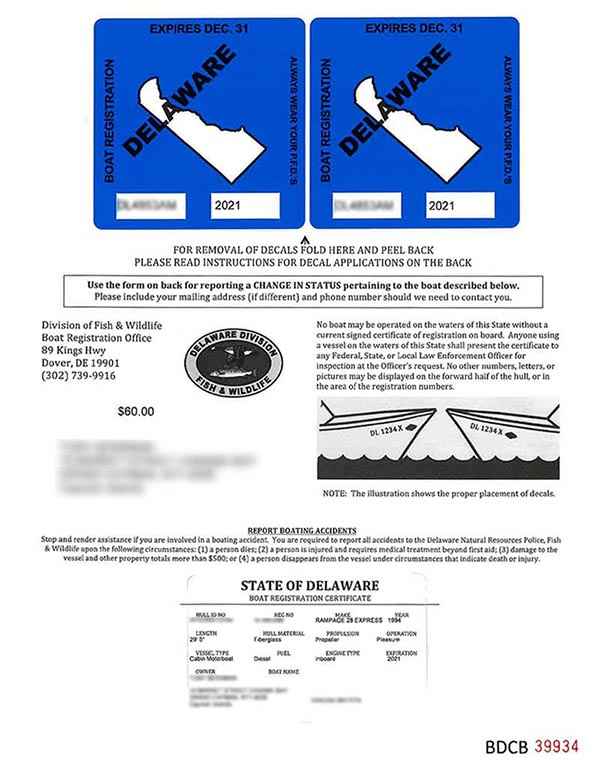 What paperwork is needed for a Delaware Registration?
The paperwork to setup ownership in Delaware is very simple:

OPTION 1 - Private Individual Ownership
Fill in our online form (3 min)
Provide us with a copy of a notarized bill of sale
All boats coming for Delaware registration from a foreign registry will need to have a Deletion copy from that registry. Registrations will not be processed without.
If your boat is brand new we need a copy of Certificate of Origin.
For US and Canadian vessels made after 1972, a hull picture is needed and for all European made vessels after 1998 a picture of the hull number is required.
If you provide us with the above documents copies by email.
OPTION 2 - Ownership under your LLC company
Fill in our company setup form – we will setup a Delaware LLC for you in 48 hours
We will then provide you with a bill of sale that you sell your boat to your own LLC
Then the paperwork is the same as for private ownership:
Fill in our online form (3 min)
We already have a copy of your bill of sale as you sold it to your LLC
Optional: if you boat was previously registered under a different flag – we then need a copy of current registration or the Deletion Certificate
Optional: If your boat is brand new we need a copy of Certificate of Origin.
Advantages boat ownership under a Corporate LLC:
A Delaware LLC offers protection from personal liability. For example in the case of damage to any other vessels or structures, even if it was not the boat owners fault.
Registering under a Delaware LLC also offers complete privacy as in Delaware all info about the members of an LLC is not required to be filed with the state, and is not on the public record.
The cost is only minimal and it is very fast to setup an LLC
Other services we offer in regards to Delaware Registrations:
Official Delaware state confirmation letter - USD 129 *(plus courier charges)
This is an optional letter in addition to the Delaware license (that is in credit card format)

Boat Name change - USD 99 *(plus courier charges)
In case you want to change the name of the Boat / Yacht / Vessel

Deletion Certificate - USD 99 *(plus courier charges)
Official Delaware government letter confirming vessel has been deleted from registry

Delaware LLC Company - USD 299
We can setup a Delaware LLC for you to own your vessel. It only takes 48 hrs

We can also arrange a MMSI Radio license
As you are probably aware, it is mandatory by law to have an MMSI - radio license onboard your vessel at all times, so we highly recommend our clients to get this while applying for your boat ownership document. Having an MMSI license onboard avoids problems when you are checked by local authorities.

You do not need to do any course to receive the license, all we need is some information about you and your vessel which can be filled in on our order form. Fill in the form, make the payment and the same day, you have a MMSI radio certificate for your vessel that is valid for all countries around the world.

We offer MMSI licenses that are issued by the USA and UK governments. Both have no restrictions on your nationality or under which flag your vessel is registered and are valid for 10 years. It only takes us 1 day to obtain your license.

What kind of MMSI license do I need for International waters?
If you use your vessel in international waters (even Bahamas or Canada) you will need an international MMSI license. In order to obtain a worldwide valid MMSI license that is valid in all International waters you have 2 options:

License issued by UK Telecom 169 USD with a boat registration (215 USD without):
We can also offer you a worldwide MMSI issued by the UK Telecom authorities. This official radio license will be valid to use with a VHF, AIS, and EPIRB on your boat AND IT DOES NOT MATTER UNDER WHICH FLAG YOU ARE CURRENTLY REGISTERED.

License issued by US FCC 349 USD:
We can also offer you a MMSI issued by the US FCC Telecom authorities. This official radio license will be valid to use with a VHF, AIS, and EPIRB on your boat AND IS ONLY VALID FOR US FLAGGED VESSELS.

Register now in 3 simple steps
Fill in our online form (3 min) and provide us with a copy of a notarized bill of sale


We will check your paperwork and then send you a invoice which can be paid by any major credit card, Paypal or bank transfer.


Within 5 days we can send you your official Delaware (USA) flag registration via overnight courier service.