Boat and Yacht Registration Delaware
We register Boats and yachts under the Delaware (USA) flag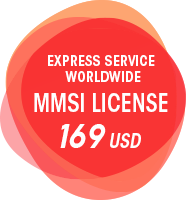 10 Year
MMSI License
From 169 USD
1 Year Delaware (USA) Yacht Registration
State Fees for 1 year registration
These government fees are mandatory
Class A - less than 16 ft
20 USD
Class 1 - 16 ft to under 26 ft 40 USD
Class 2 - 26 ft to under 40 ft 60 USD
Class 3 - 40 ft to under 65 ft 100 USD
Class 4 - 65 ft and longer 120 USD
Valid worldwide
Registration of vessel under Delaware (USA) flag
Registration valid for 1 year

*

Expedited service
Includes overnight Courier Service
OPTIONAL
3 Year Delaware (USA) Yacht Registration
State Fees for 3 years of registration
These government fees are mandatory
Class A - less than 16 ft
60 USD
Class 1 - 16 ft to under 26 ft 120 USD
Class 2 - 26 ft to under 40 ft 180 USD
Class 3 - 40 ft to under 65 ft 300 USD
Class 4 - 65 ft and longer 360 USD
Valid worldwide
Registration of vessel under Delaware (USA) flag
Registration valid for 3 years

*

Expedited service
Includes overnight Courier Service
OPTIONAL
Setup a LLC Company

(OPTIONAL)
We recommend setting up a LLC for: Asset Protection, Confidentiality, Tax Benefits, Resale Advantages
Includes setup of LLC company in Delaware
Includes first year Delaware resident agent fee
Includes first year Delaware resident mail address
3 day expedited service to set up the LLC
Radio Licence - MMSI

(OPTIONAL)
As you are probably aware, it is mandatory by law to have a MMSI - radio license onboard your vessel at all times.

What kind of MMSI license do I need for International waters?
If you use your vessel in international waters (even Bahamas or Canada) you will need an international MMSI license. In order to obtain a worldwide valid MMSI license that is valid in all International waters you have 2 options:

License is issued by the USA – FCC (399 USD):
We can obtain the license within 48 hours for you. The USA - MMSI license is valid for 10 years and is 399 USD.

License issued by UK Telecom (270 USD)
We can also offer you a worldwide MMSI issued by the UK Telecom authorities. This official radio license will be valid to use with a VHF, AIS, and EPIRB on your boat AND IT DOES NOT MATTER UNDER WHICH FLAG YOU ARE CURRENTLY REGISTERED. This license will be valid for 10 years and is only 169 USD in combination with the Delaware registration.